Craving for Community
From Bluetruth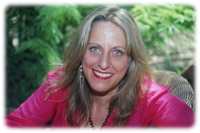 by Amara Charles
Recently while visiting with many of my friends around the globe, I began having virtually the same conversation with them all. Mostly we started with stories about magical meetings with gurus and pseudo gurus, and then moved onto tales of our years of awesome workshops and other remarkable self-growth experiences. Then we told each other of our graceful or not so graceful relationships, marriages, divorces, children and everything imaginable in between. Yet after all was said and done, I started to notice every one of them gravitating toward the same idea: a craving for community.
It is not the desire to build a commune, or the urge to go off to a religious monastery that calls most of us these days: it is the underlying longing in our hearts to live in nourishing environments amongst kindred spirits-to create homes and pursuits where we can develop our deepest gifts. It is a calling to live in caring places where our bodies and spirits can thrive, where our freedom and creativity can be shared abundantly.
Yet how many of us now live in such places of sanctuary and beauty? In my own experience, although I have been gathering friends and creating spiritual alliances for years, the sense of a real community remains elusive. Sometimes, moments I share within my community of friends are so compelling I feel truly blessed. Other times, the community seems to evaporate, and it becomes a daunting task to pull it back together. People are scattered around and most are inundated by various obligations in their lives.
Although it does require profound commitment and real effort to sustain any community, it sure beats feeling alone and isolated. Even the most mature, advanced souls I have encountered live their sweetest moments surrounded by worthy companions. The best conversations I have revolve around what would our lives look like, what would we be doing, what would happen if we lived in robust and spiritually fascinating communities?
Some of us may remember living in times and places where life was celebrated with respect and reverence, where all children were raised in beauty, and where compassion and tolerance for the self and others reigned supreme. So how do we begin creating the kind of community we would truly proud to live in?
In my view, the glue that will bond a new kind of community together is true friendship. A gathering of souls pulled together by resonant frequencies of deep love. Thus the more real and deep and thickly connected our friendships become, the more divine reverberations will flow forth from the community. These new friendships will not be ordinary; they will be a full consummation of our deepest selves being inevitably drawn to our highest possibility.
How to Recognize a Consummate Friend It seems to me a magnetic recognition, an innate attraction happens when we gather together in soul clusters in order to begin the business of living rightly. It is a riveting and electrifying feeling when we find a Consummate Friend.
But you have to learn to recognize these people in your life. Chances are you have let a few of them slip by because you were asleep when they came around. A very good sign you have met such a Friend is a tendency to laugh profusely for no particular reason in their presence. Irrepressible joy can happen in the middle of anything whenever you get together.
Another indication you are in the presence of a Consummate Friend is an ache in the pit of your stomach if you are without them for long. Please note: this can happen even if they are not lovers. You do not have to consummate with a Consummate Friend, (but there will probably always be a part of you that would like to just out of curiosity)
The love you feel for this kind of person is a radical love. Much like regular love, it can be utterly irrational-one minute frivolous, the next deadly serious. A Consummate Friendship is concerned only with what is utterly not seeable about you. In other words, these people have the ability to look so deeply into your eyeball: into places which are impossible for you to see by yourself. They can ruthlessly look straight into your sublime beauty or laugh at your puny cowardice of being who you truly are, and, as is usually the case, both at once.
This article is a call to awaken to the kindred souls around you. Notice who is near. Do your cells vibrate and shiver with a kind of calling? Do you hear the faint whispers of spirit when they are near?
But remember, these friends will not be your easiest associates. Become aware, listen especially to irritations. Give special attention to anyone who knocks you into sobriety or who entices you speak the unspeakable. Now, rather than remaining passing strangers afraid to risk the dangers of intimacy, begin to truly bond. Form allegiances of communion that can transcend all religions, nations and cultural differences as well as any conventions or limitations you may have known in other relationships.
Consummate Friendships are as rare and valuable as pure gold. Like a star that will not disappear in your lifetime, they can draw out your most precious offerings. They can lead you onto terraces too terrible or too grand to walk on by yourself. If you even suspect you may have found one of these in your life, drop everything superfluous and make it your business to connect with them no matter what. As a good friend has said, "Throw a stone through their window, break into their house in the middle of the night and demand they make love to you immediately." Missing the chance to commune at the deepest levels of your being is a needless way to suffer.
All good and enduring communities will be forged through the radical audacity to make and nourish such friends. Who knows what these divine unions might co-create.
In beauty,
Amara
You need JavaScript enabled for viewing comments